Summer has just begun, I certainly can feel heat! 105 Degrees in the shade, NO BUENO!
However, I love to celebrate the summer with food. It's usually the time of year when we have the most cook-outs and we attend a lot more food festivals. I also end up eating lighter during the summer, I think its to maintain this awesome figure I'm sporting. *_*
Here are 3 of my favorite foods during the SUMMER, perfect for family BBQs, and parties.
3) Chicken & Bacon Kabobs. Recipe!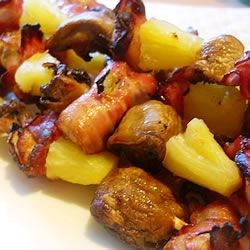 These recipes are easy to make. I love effortless cooking and it doesn't take long at all.
I get most of my recipes from allrecipes.com.
Happy Summer Cooking =)